So. Tomorrow is Friday which means tomorrow…
I'm graduating high school
. And no I'm not completely free yet
(to read)
, it's actually just the whole official ceremony, dinner/dance, dry-grad shin-dig, but it feels so.. close. So well, fancy.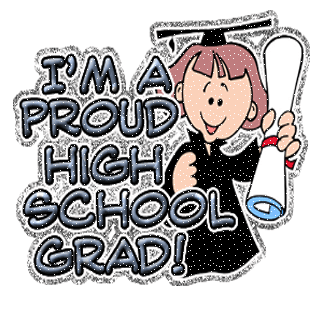 Hey, so far in 17 years, high school has been the best times of my life :P So yeah, you YA authors, HS isn't always a hell-hole. It's crazy to think I've been through 5 years in this school and experienced so much personal growth whil being surrounded by amazing people and amazing teachers, but there really isn't much I can say here.
Oh, there is!
Teachers: you matter.
Sometimes you have the bratty, lippy kids, the kids you just can't wait to leave you class at the end of June, but well, there's also kids like me. I think teachers in my life have influenced me more than any other adult, especially during these impressionable teen years. I'm lucky to go to a school where students talk to teachers like people, not 'authority figures', where in science class we talk about Sarah Palin and religion as opposed to the induced EMF of a motor. In English class where we watch more youtube videos than we read sonnets. It's going to be so much nostalgia with graduating, but just remember, to you teachers out there, no matter what age you teach or what subject:
you're important. And thank you for doing what you're doing.
So yay! I have one more week of school after this, one exams two weeks from now, and then I'm free. Oh summer.. I can't wait for you to come and me to READ! I promise after school ends I'll be reading and reviewing the books I've promised to, I'm on a book buying ban until I get through my TBR (well… of course there's exceptions)
Also, I think I mentioned before about letting you guys know where I'll be going in the fall. I'll be studying at Univeristy of Toronto, and I'm excited :)
So this blog may still be kind of quiet but I promise I have some big things planned for June. Just give me another week.
And to my fellow grads out there, congrats to you too. Class of 2011… DFTBA.
♥

PS- anyone catch the

Friends

reference? Love that show!