by Marjane Satrapi
Wow guys, this is a
Graphic Novel
(first one ever)! And I had to read this for a school project (sigh. does this count as cross-curricular?) I thought why not review it as well since I haven't been reading novels recently? Plus, I can use this for my
Take Another Chance
challenge.
Summary
(
goodreads
):
Persepolis paints an unforgettable portrait of daily life in Iran: of the bewildering contradictions between home life and public life and of the enormous toll repressive regimes exact on the individual spirit. Marjane's child's-eye-view of dethroned emperors, state-sanctioned whippings, and heroes of the revolution allows us to learn as she does the history of this fascinating country and of her own extraordinary family. Intensely personal, profoundly political, and wholly original, Persepolis is at once a story of growing up and a stunning reminder of the human cost of war and political repression. It shows how we carry on, through laughter and tears, in the face of absurdity. And, finally, it introduces us to an irresistible little girl with whom we cannot help but fall in love.
**
My Expectations:
Uhm.. I really didn't know what to think. I think deep down I thought it would not be pretty though.
Delivery
: I didn't love it, but I didn't hate it either. I thought it was a good experience. Wow, this isn't vague at all—I'm sorry.
Put-down-ability:
not very low, I never found myself completely immersed. 7/10
**
My Thoughts
This is the one and only graphic novel I have ever read, so saying I was going into this with fresh eyes is an understatement. It could be jarring at times, unorthodox and atypical to my usual preferences, so my feelings and opinions are torn. Plus, it's difficult to decide how to "judge" this type of novel. I really hope I don't sound ignorant or offend anyone in my review because I just wanted to give my opinion despite the fact I don't really have any experience/knowledge regarding graphic novels.
I think I'll start with the story itself. It covered the life of Marji from when she was 10 and the revolution was just beginning, till she was 14(ish, I'm not exactly sure). Compared to a novel-novel, this was obviously lacking (despite the quite unfair comparison). The character development was only decent for Marji and I never truly got a sense of any of the other characters.
Marji, the protagonist and author, I admired but couldn't relate with. At the beginning, she had the child-like naivety that isn't unusual, and as the novel wore on I could see her character growth. I felt she behaved in some ways very realistically, but some of her other actions were questionable; perhaps it was just the fact that I couldn't identify with her setting and time "era". Her thoughts had a both an innocent and profound edge to them, and I felt she was very wise for her age.
The plot is straight-forward with a few layers to unveil, but relatively 'basic', if I can call it that. People did this and that, this or that happened, then someone would do something. I had very little previous knowledge of the history of Iran and its revolution so some aspects were completely foreign to me. Concepts and facts like, for example the Marx kind of threw me off guard because I didn't know what they were talking about. I found that it was very political (not exactly my area of interest) as well, which I think had a negative affect on me.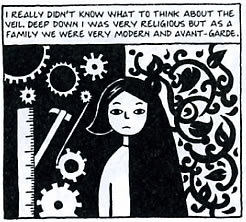 This being said, I think most of us know that the true identity of a graphic novel is probably in its pictures, not words. Despite the fact that my eyes automatically drew to the words on the page as opposed to the picture (too much reading? Maybe) I could still appreciate the sometimes-simple and sometimes-complex frames. The black-and-white shading is used very well to convey different messages and depth. But, you can't forget that this is my very first time reading a graphic novel so I really don't have anything to compare it to.
Parting Thoughts
: even after writing this review, my opinions are still kind of jumbled. This book is just 'in the middle' for me, not to mention really different.
Book in HP terms
:
Acceptable
7.8/10
–because for my first 'graphic novel experience' I was relatively pleased but I came out of this feeling mostly "neutral". The story was, for the most part engaging but the graphics was something that took time getting used to. I couldn't connect much with the characters, however, which is something I look for in novels. The frames moved the plot along nicely, and I thought many 'scenes' were particularly insightful and thoughtful shown through the view of a young girl. It could be funny, it could be sad, and I definitely learned a lot about the Islamic Revolution.
7.8/10
is a
B
.
Would I recommend it? Sure, it's not like I have anything to really measure it to. Want to try a graphic novel? Give this one a spin and tell me how you like it.
Also, there is a sequel,
Persepolis 2
, which I probably don't plan on reading any time soon.