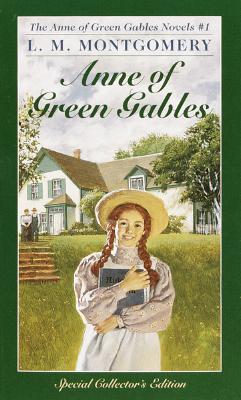 by L.M. Montgomery
I know, it has taken me a long time to finally getting around to read this, plus it's really not the kind of book I usually read. It's such a famous classic set in Canada though, how could I not try it?
Summary
(by me):
How do I describe
Anne of Green Gables
? It's a classic, no doubt. The charming, imaginative, and talkative eleven year old "kindred spirit," Anne Shirley, is adopted by Marilla Cuthbert and her brother Matthew, who had originally requested a boy. However, they grow to love Anne and her delightful ways, laughter, loving heart, imagination and even her dramatics. The story follows Anne through her fantastical adventures, mishaps, mistakes, and undeniable growth into an intelligent young woman.
**
My expectations
: high. It is a novel beloved by Melina Marchetta, need I say more?
Delivery:
I was decently pleased.
Put-down-ability:
7/10 (where 10 is I put down whenever I want, and 1 is OMG READ NOW NOW NOW)
**
My Thoughts:
I thought this book was, in one word, charming. It was beautiful and pleasant, funny, light, and very loveable. Anne is such a dynamic character with endless charisma and imagination, I fell in love with her the moment she named the Lake of Shining Waters. Her attitude in life is just remarkable, and I admired her endless energy, talent, and drive. Marilla and Matthew's quiet love for Anne was well written. I wish there was more Gilbert Blythe though xp
The writing is what I would expect from a "classic/older book". I swear nine-tenths of the book is nothing except for Anne blabbering about anything and everything, her day, her adventures, her friends and teachers. She is such a precocious young girl with a big vocabulary and a love a fluffy-long words. So, the prose is somewhat flowery and pretty different from modern books. You know what I mean by "classic writing", right?
I will admit, the thing that made the book easy to set down is a lack of a driving plot. It is a lot more of Anne's day-to-day, or month to month adventures, and how she affects everyone around her. The book starts when she is eleven, and ends when she is sixteen. There isn't the expected rising action, climax, anticlimax etc. I think while it worked for the book, it made it less captivating.
The novel is set in Prince Edward Island in Canada, and Avonlea (the town) is just described so beautifully. I loved the descriptions and names that Anne called different places, like the Haunted Woods. It really does sound like a place I would love to live or visit one day.
Favourite Scene:
Anne, Gilbert, and the slate. Your right, Ms. Marchetta, a wonderful scene indeed.
8/10
- I think you can tell by the way I described everything, my favourite part was Anne. I thought she was just a fantastic character that I really wished I was more like. Her carefree imagination coupled with a strong character made her just…awesome. The plot could have been better, and while I felt the writing was a bit harder to understand, it still worked well.
This is a book any girl who loves books should read, and I promise you will fall in love with Anne Shirley of Green Gables. It is a timeless children's classic.
This is the first in the Anne Shirley series. There are 7 books in the series, along with some other novels by Montgomery based in Avonlea :)